Part 1 of 5, Research Series, The Children's Census Initiative
This blog is cross-posted from Texas Census Institute. You can access the blog here.
The future prosperity of our communities relies on helping children thrive. When children are given resources and opportunities to be successful, they are better positioned to serve as valuable community members, citizens, and leaders when they grow up.
The U.S. Census plays a large role in supporting child success. Data is used to inform a variety of decisions that affect our everyday lives. It is estimated that over $2.8 trillion in federal funds are distributed using Census data and everything from community development to private sector planning utilizes the survey's results.
In 2021, it is estimated that $415 billion of those dollars impacted children in some way.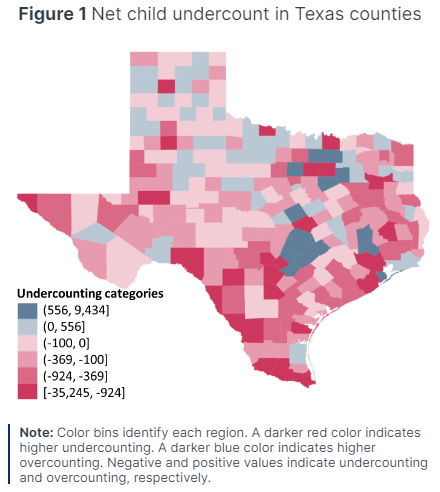 Whether it be the schools the children attend, the healthcare facilities they use, the grocery stores that put food on their tables, or the roads used to get around, the impact of government planning and industry decision-making is universal to children and their families throughout their life.
Each child deserves to be counted, planned for, and supported – for the health of families, but also for the wellbeing of our communities.
In Texas, 153,633 children were not counted in the 2020 Census.
75% of Texas' counties undercounted children.
However, children (0-17 yrs. old) are one of the largest groups undercounted in the decennial Census – and that number has been growing over the last several decades. It is estimated that 153,633 children in Texas were not counted in the 2020 U.S. Census. Of the 254 Texas' counties, 190 experienced a child undercount. Additionally, 75% of counties experienced a child undercount showing that the problem is widespread and impacts every region in the state.
Understanding the Problem
The Texas Census Institute will be releasing a series of research briefs to raise awareness about the issue, highlight what counties experienced the largest undercount, offer some potential reasons for it, and describe the economic and other unintentional consequences of undercounting children during Census activities.
Findings from the first report show that approximately 72% of children not counted reside in three areas: South Texas, Gulf Coast, and the Metroplex regions. Having this information affords Census advocates a more accurate view of where to target efforts in the future. Texas has more counties than any other state in the nation with high undercounts of children. This results in millions of dollars left on the table for Texas' children and many families not getting their fair share of the American dream.
Read the Research Brief in One Pager and Full Report format: